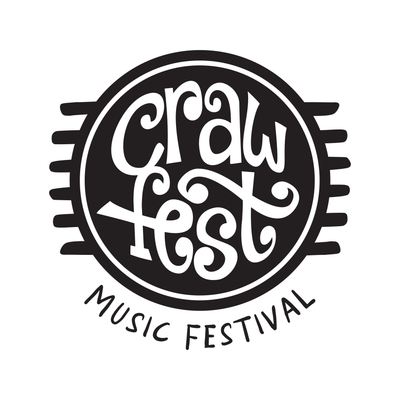 We run a challenge 25 policy at Crawfest, so please ensure you bring valid ID with you. Crawfest has a zero tolerance approach to drink driving. For those wishing to consume alcohol, please ensure that you have a designated driver in your party or have travel arrangements booked.
Searching is a condition of entry to Crawfest. The Promoter reserves the right to conduct security searches and confiscate any item which in the opinion of the Promoter may cause danger or disruption, be a health and safety risk, not be suitable to be taken into the event. Anyone found in possession of illegal substances or contraband goods will be refused admission to or ejected from the festival and may also be liable for prosecution. Any items found that may be used in an illegal or offensive manner will be confiscated, regardless of whether or not the item itself is illegal.
It is not permissible to bring alcohol into the event field at Crawfest.
You shall not bring all or any of the following into the event field, fireworks, laser pens, laser equipment, glass containers, or any item which the Promoter considers could be used as a weapon (including sharp or pointed objects such as knives), items with an open flame (e.g. candles, barbecues gas/paraffin lamps, sky lanterns, camp fires, gas fires etc). The Promoter shall be entitled to confiscate any merchandise purchased outside the Venue.
Events will continue regardless of weather, except where extreme weather conditions affect safety at the venue. In such cases, the event can be cancelled at any point to ensure public safety.
Dogs are permitted into Crawfest, including the event field, but they must remain on a lead at all times. All dog waste must be picked up and disposed of in a bin.
You may only leave and then re-enter the Venue if You have a valid Wristband. Otherwise there shall be no re-admissions or pass-outs of any kind. You must comply with any and all instructions given to You by the Promoter and/or all Venue stewards and staff at the Event.
Anyone not wearing an appropriate wrist band will be approached by staff and asked to buy entry, or will be removed from the Festival site.
All advertised times are approximate and subject to change. It is Your responsibility to make appropriate arrangements to ensure that You arrive at the Venue in sufficient time in case the Event or performance starts early or otherwise, and to ensure that You are able to stay until the close of the Event or performance should You wish to if it overruns. We will not be responsible to make any refund or meet the costs of any alternative travel arrangements or for any loss of enjoyment or other indirect loss as a result of an Event not running to the precise advertised times.
Personal arrangements including travel, subsistence and accommodation in relation to the Event which have been arranged by You are made at Your own risk and neither the authorised ticket agent nor Crawfest Ltd will have any liability for any such loss of enjoyment or wasted expenditure. A "Material" alteration is a change which in our reasonable opinion makes the Event materially different to the Event which purchasers of the Ticket could reasonably expect. Changes to performance times, s acts shall not be considered a Material alteration. A Material alteration is judged by reference to the nature and billing of each Event. The Event is judged by reference to the overall theme rather than the individual act scheduled to appear. No scheduled acts may be considered as headline acts, regardless of their relative fame or prominence in the billing, and so cancellation by an artist will not entitle You to a refund, regardless of their position on the bill.
Individual refunds are offered at the absolute discretion of Crawfest Ltd.
Under 16s must be accompanied by a parent/guardian (18 or over) and supervised at a maximum ratio of 3 children to 1 adult.
It is the responsibility of customers to keep all e-tickets and documents safe.
Crawfest reserve the right to refuse admission.
Various lighting effects including the use of strobe lighting and smoke machines may be used throughout the performance.
Crawfest will make every endeavour to provide a safe environment for staff, volunteers, contractors, artistes and members of the public with current advisory Covid-19 safety measures in place.
Price and availability information is subject to change without notice.
You shall not bring into the Venue or display or distribute (whether for free or not) at the Event any sponsorship, promotional or marketing materials.
The Events are about good music, performance and entertainment and the freedom for all to enjoy it. Anti-social behaviour and illegal activities, including use, supply and possession of illegal substances will not be tolerated and You will be ejected from the Venue without refund.
Campers should pitch tents in designated camping areas only and stay out of fire lanes and other working areas. The Promoter reserves the right to re-locate your accommodation to another area of the Venue should weather conditions deem it necessary to do so.
You should bring a tent that is sized for the amount of occupants. We reserve the right to refuse to allow any structures which are too large or which we believe may cause a health and safety risk.
BBQ's are permitted in the campsite, but must be clearly raised off the ground, and extinguished by 10pm.
We will not be liable for any failure to provide any advertised facilities within the camping area and we shall not be held liable for matters outside of its control, including those which may result in any loss of amenity, for example, where a third party supplier fails to provide utilities on time, or where natural changes to the landscape or where poor weather conditions are experienced.
All items brought to a campsite are brought and left at Your own risk.
You are permitted to bring your limited supply of food and soft drinks for your consumption in the campsites but not for resale.
You agree that Crawfest Ltd, its servants or agents will not be liable for any loss, injury or damage to any person (including Yourself) or property however caused (including by the Promoter or its servants or agents): (a) in any circumstances unless due to the negligence of the Promoter, its servants or agents; ; (b) in circumstances where such loss or damage is not a reasonably foreseeable result of any such breach (save for death or personal injury due to the negligence of the Promoter, its servants or agents); and/or (c) to the extent that any increase in any loss or damage results from the breach by You of any of these Terms and Conditions.
For the purposes of these Terms and Conditions, "Force Majeure" means any cause beyond Crawfest Ltd's control including, without limitation, an act of God, war, insurrection, riot, civil disturbances, acts of terrorism, fire, explosion, flood, royal mourning, national mourning, theft of essential equipment, malicious damage, strike, lock out, weather, third party injunction, national defence requirements and/or acts or regulations of national or local governments. The Promoter will not be liable to You for failure to perform any obligation under these Terms and Conditions to the extent that the failure is caused by Force Majeure.
You agree that Crawfest Ltd shall not be liable to You for any indirect or consequential costs, claims, actual or alleged losses howsoever arising out of or in connection with the Event and/or our obligations hereunder including, but not limited to, loss of profits, anticipated profits, savings, business or opportunity, or loss of publicity or loss of reputation, or opportunity to enhance reputation, or loss of contract or other economic or consequential loss arising from the performance (or any failure to perform) these Terms and Conditions.
Crawfest Ltd will not have any liability to You whatsoever for loss or expenses incurred in connection with the Event or any cancellation of the Event, including, without limitation, costs of any personal travel, accommodation or hospitality arrangements made relating to the Event or the cancellation of
To the fullest extent permissible in law, Crawfest Ltd shall be entitled to assign all and any of its rights and obligations under these Terms and Conditions, provided that Your rights are not adversely affected.
If any provision of these Terms and Conditions is found to be invalid or unenforceable by a court, the invalid or unenforceable provision shall be severed or amended in such a manner as to render the rest of the provision(s) and remainder of these Terms and Conditions valid or enforceable.
If Crawfest Ltd delays or fails to enforce any of these Terms and Conditions it shall not mean that Crawfest Ltd has waived its right to do so.
Any person, other than Crawfest Ltd, who is not a party to these Terms and Conditions shall have no rights under the Contracts (Rights of Third Parties) Act 1999 to enforce any term of these Terms and Conditions.
Nothing in these Terms and Conditions and no action taken by You or Crawfest Ltd under these Terms and Conditions shall create, or be deemed to create, a partnership, joint venture or establish a relationship of principal and agent or any other fiduciary relationship between You and Crawfest Ltd.
These Terms and Conditions constitute the entire agreement between the parties in connection with the subject matter of these Terms and Conditions and supersede any previous terms and conditions, agreement or arrangement between You and Crawfest Ltd relating to the subject matter of these Terms and Conditions.
Nothing in these Terms and Conditions shall purport to exclude liability for fraud or fraudulent misrepresentation.
These Terms and Conditions shall be governed by the laws of England and Wales and the parties agree to submit to the exclusive jurisdiction of the Courts of England and Wales.
The Promoter reserves the right to update these Terms & Conditions at any time.
The purchase and use of a ticket shall constitute an acceptance of these conditions by the purchaser and holder.